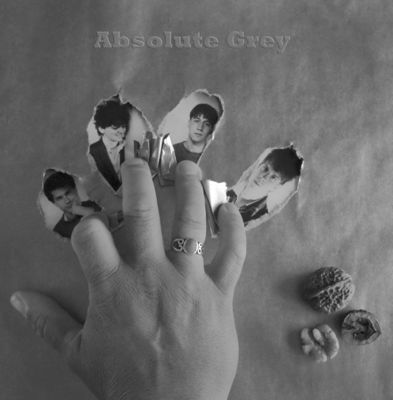 Absolute Grey Tear Away: Beth Brown is overdubbing vocals on 'Grey Farewell', alone & in the basement. "I was trying to sing, and I was crying. Everyone was probably listening to me and, you know….guys can't handle it when women cry. God knows what THEY were thinking". What they did know is that the band was breaking up, and the album "What Remains" was to be their swan song.
Cue It up: the studio is in the attic of Dave Anderson's house (aka Saxon Studios), summer of '85. A line has been routed 3 flights down to where Beth Brown is overdubbing vocals on 'Grey Farewell', alone & in the basement. "I was trying to sing, and I was crying. Everyone was probably listening to me and, you know….guys can't handle it when women cry. God knows what THEY were thinking". What they did know is that the band was breaking up, and the album "What Remains" was to be their swan song.
Would it be hell for me
And would I cry for ever
I'm part of what will die
But nothing lasts forever
Dreams we talked about
You felt the same way I did
I know that you believe
So why have you decided
But demise was at the core of the dream from the beginning; the band was something that Matt & Mitch did while waiting for high school to end, before heading off to college. Beth & Pat, 7 years their senior, tried to talk them out of it: wait a year, let's not lose momentum., do a tour for the album… don't throw it all away. "At our farewell gig, I sang it again, I cried then too and the whole audience was riveted. A lot of our friends & fans were there and were pretty sad as well".
Can't happen without you
It hurts you don't believe
Don't ever go
Don't ever leave
Grey Farewell
Don't throw it all away
Grey
Beth Brown's voice cuts straight to the heart. Buoyed by Pat Thomas' propulsive drumming, Mitch's melodic bass-as-lead-guitar, Matt nailing down the sound with power chords, it's her voice that rose the band above the fray of their influences and sent them careening, on a good night, out into the unknown. It is why Absolute Grey is still being talked about today. That …plus Pat Thomas, as manager, calling everyone in the western world who would take his call. "It was this outlet", says Mitch Rasor, bassist & principal songwriter, "…with all 4 of us plugging into it. It just happened….how the hell does that happen? Lightning strikes. Absolute Grey got lucky. It was this rare thing".
It was a roman candle ascent: the band formed in October of '83 with 1 song, by January of '84 they do their first gig & play all original material. By April, they record a 6 song demo tape and by July they record their debut album "Greenhouse". An album that Harp Magazine, years later, would select as #5 in their "10 Must-Haves" of the '80's psychedelic revival along with albums by Dream Syndicate, True West, Rain Parade, Plasticland, Beavis Frond, Died Pretty. In some ways, Absolute Grey was the eastern chapter of LA's paisley underground…they certainly didn't sound like anyone else in Rochester, NY, where many of the inner city bands leaned toward a '60's garage & British invasion sound. It was probably a genius move by Pat Thomas to essentially "brand" Absolute Grey with that West coast scene along with Southeast bands like Let's Active and The Windbreakers and establishing kinship with those bands. It ensured a lot more reviews happened outside of Monroe county and spread the buzz to Europe via Acid Tapes and the Bucketful Of Brains magazine crowd, where paisley was being voraciously consumed. As a result, Greenhouse is still in print to this day, in a vital, expanded & remixed release. And since it was in live performance that Absolute Grey truly shined, it's a blessing that a bonus disc has been added with 2 burning shows at Rochester's penultimate venue, Scorgies.
Recently, Beth, Mitch & Pat agreed to withstand a volley of endless emails and multiple, marathon phone interviews to dredge up the memories of those heady Ab Grey days. To get to the heart of the matter, the recollections of some of their friends & peers have been mixed into the proceedings.
Listen, while reading, to Radio Absolute Grey
(a selection of live performances):
EA: Beth, tell us about your earlier band, Hit & Run, that you started in '79?
Beth: It was my first band out of high school. Todd Bradley is now the singer/guitarist of The Hi-Risers, he was the drummer back with Hit & Run. He wrote some songs and sang in Hit & Run, too. And then Bill Corbett and Simon Ribas…they are in the Chinchillas with Peter Presstone. The keyboard player was Greg Gilmore and he's in some jazz band that's really good right now. Hit & Run did originals and covers. Our song "Scoping" was on the first Homegrown comp lp (Homegrown being a radio show on WCMF that played music by local bands). We played the record release party, and gigged around. I think we played the backroom at Record Archive too. We did the New Wave Night at the Penny Arcade in the Fall of 1980. We lasted about a year, and broke up when Todd Bradley went off to Berkeley School Of Music.
EA: …and then you were in a band called Seizure Salad ? Great name!
Beth: that was just a one night band for a party !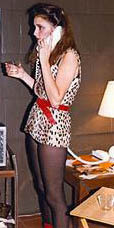 EA: Jim Huie (later of Invisible Party) remembers auditioning for that band. He says: "she had long hair then. She came down the stairs to my parent's basement to hear me play…she DID look like Grace Slick! She looked like a model. She'd been on that Homegrown comp, I was all impressed".
Beth: Oh my god !! (laughs)…that was for another band; I auditioned Jim when I was trying to get a band together with a bass player named Chuck Carter. But that fizzled out.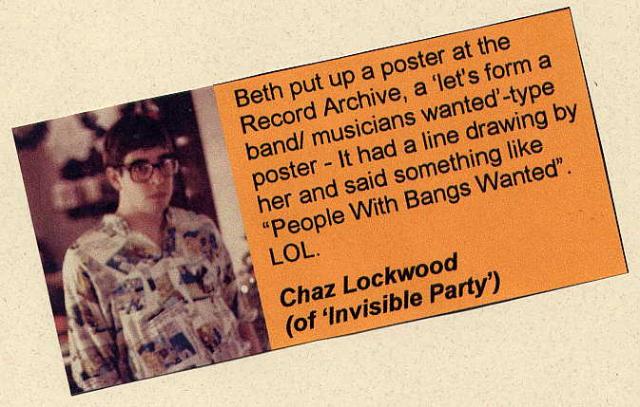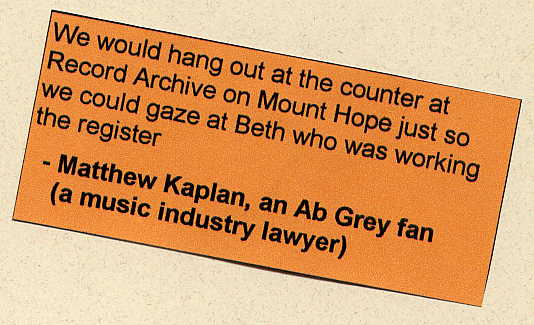 EA: Record Archive was one of the best record shops in Rochester, carrying a lot of the newer albums that Uncle Rog & Kevin Patrick played on WCMF's radio show "Import/Export". Beth worked there from 1982 (while going to art school), along with musicians like Stan Merrell, Jim Huie, Judd Williams and also Victor Tabinsky, later road manager of the Chesterfield Kings. What other vital record stores were there in the scene?
Mitch: I spent countless hours at Fantasy Records and drove the clerks crazy. One person was in Delroy Rebop and I think he went to U of R with Peter Presstone and he gave me their first single.
Pat: there was a very cool place called The Lakeshore Record Exchange; they were the only place in town that stocked imports like all the mid-70's John Cale LPs on Island, the King Crimson albums (all out of print in the USA). I got my copy of Lou Reed's "Live In Italy" there as well – that never did come out in America. Later on they sold the business to someone else and it changed locations – was never the same after that.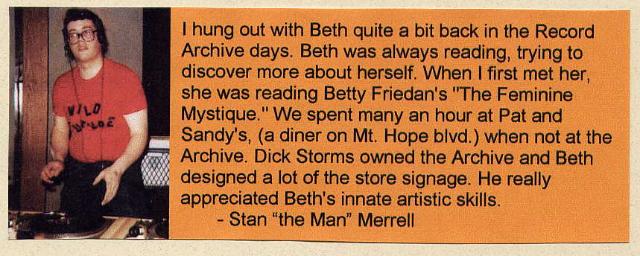 EA: Mitch, were you in a band before Ab Grey?
MITCH: I was doing what in retrospect was way farther out "solo" music with a radio shack mixer down to a tape deck. I did not know how to write songs, so I was just recording in my bedroom. I did have a short lived "new wave" band with a drummer and a keyboard player but we never got out of the basement.
EA: and Matt was in a band, The Cads, with his older brother Will Kitchen, along with Michael Smethurst (vocals), Chris Lasch (Keyboards), Gary Tas (drums) and Rick Dunbar (who played bass at the time the band had a 2 bass line up).
MITCH: The Cads really impressed me and were my introduction to a group of local people who were into music and the arts. They brought things into focus for me, made me realize what I wanted to do with my life and the type of intellectual, but fun people I wanted to befriend. I ended up at a lot of shows at the University of Rochester with the Cads crowd. Violent Femmes, the Presstones. This is also where I saw REM, a show that for better or worse was a watershed moment for me. I think the fact that it was in a lush college setting later fed into my desire to move on from Absolute Grey. I spent a lot of time studying for high school tests at U of R, as if I was a student there.
Stan "the Man" Merrell: The Cads were pretty awful but looked like rock stars. Will Kitchen would later go to Cooper Union. Matt & Will's mom was a poet and professor at Brockport State College. They had a neato house off Jefferson Rd. in the village of Pittsford. Of course, there was a greenhouse in the backyard.
Mitch: As the Cads broke up, Matt and I joined forces and started messing about with his Rickenbacker and my Fender in his garage. We got the connection to Beth through her brother, Oliver, as we knew him through the artsy high school crowd even though he went to the fancy Harley School. We had one song, Watching Waiting and brought Beth in to try it out and I gave her the lyrics and melody and it was obvious we had a band…we just needed a drummer. Will had not left for college yet and he made posters and we did not even attempt to hang them around Pittsford, just the Rochester streets, book & record stores. I remember Will and I had a hilarious time making the posters, it had lily pads drawn on it and said "seeking lily pad player".
EA: so Pat goes along to audition, mainly because he's seen Beth strutting thru Record Archive, figures its worth a look-see. He arrives with tight mod striped London pants and a very 1970's "Porn Star" moustache… it was, as Mitch puts it, love at first sight.
Beth: yea, I said "Lose the moustache!"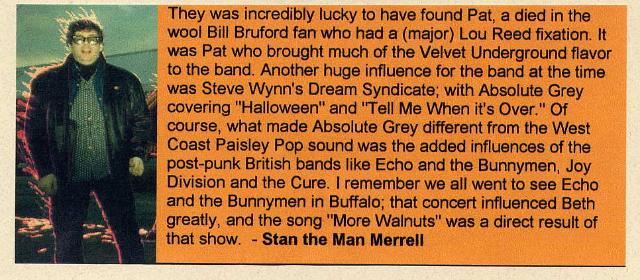 Pat: We were all really into that band. That was the Ocean Rain tour, a medium sized college gymnasium, we sat on the floor, real close, but the thing was the sound system they brought sounded amazing to us. The performance was great. We all left the show feeling it had been really special. The " More Walnut" lyrics refer to her looking at Ian McCulloch singing and being kind of in awe of him.
EA: Beth, what other vocalists may have been an influence on you? Jefferson Airplane's Grace Slick is always pointed to…was that valid?
Beth: I absorbed Grace Slick, and Chrissie Hynde. I was into Fairport Convention & Sandy Denny. I liked Kate Bush. So I had influences. Heart. Pat Benatar had a strong & powerful, rock 'n' roll voice….which I liked. I was mainly interested in melody & the vocals. Mitch & Matt had their influences, Pat had his…we combined our influences and that helped create our sound.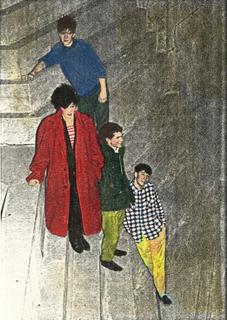 Pat: the best thing I can say about Beth as a vocalist is she didn't get hung up on any one influence. She had bands that she liked more than others, but Beth was kind of taking a little bit from everything, which was good, She wouldn't wax on for 2 hours about some album like I might. She would just keep an open ear and if she liked something she'd grab it.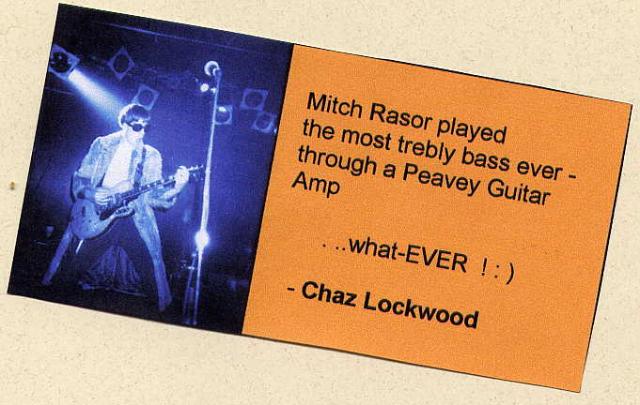 EA: Mitch, your percussive bass playing (as lead instrument) was certainly influenced by Will Hook of Joy Division/New Order and maybe a little Dave Allen of Gang of Four. what other music had an impact?
Mitch: Records like Sound Effects, Murmur, Rocket to Russia The Clash – first record, Black Market, London Calling, Psychedelic Furs, PIL, East Side Story, Trust, bands like Bush Tetras, Cramps, Mission to Burma. I'd spend endless hours in my room lost in the music, totally intrigued by how a band happened, how albums were made, cover art, what touring was like. Before this I was really only into the Who, Beatles and the Kinks.
The other big factor is I had a brother, Scotland, ahead of Will and The Cads' crowd and he introduced me to music. My first concert was the Ramones between 6th and 7th grade. We went to Steel Pulse, Black Uhuru and other bands like the Stray Cats. I am also quite sure that Peggi Fournier gave Scotland a mixed tape which I listened to a lot. One specific band I remember was Bush Tetras and then another band with a song that had lyrics like, "where I walk, buildings fall".
Matt, myself & my Sutherland friends went to a number of shows at U of R and at Schatzees (we could not get into Scorgies until the band had an in)…but I felt more in tune with the few friends I made through the music scene (people like Bruce Johnson, who was Pat's roommate at the Culver St. house). I didn't feel part of a defined club or bar culture. I was still straddling my high school and the Rochester friends, but there was no connection between the two. No one at school was aware of the band. Matt, Will & I probably went to more 80's "new wave" films at The Little Theatre than going to concerts in those days; this was central to our experience of Rochester as a scene.
I listened to WITR and WRUR all the time. Before AB Grey, there was one WRUR show, a best of the year, broken into different areas, new romantics, etc and this one two hour show blew my mind. It was the first time I heard the Cramps, Mission of Burma, Orchestral Maneuvers in the Dark, Visage, Human League, Soft Cell….I recorded the show and still have the tape.
Stan the Man: Everyone listened to WRUR at the time and what we were playing on the radio. WRUR had a pretty strong signal. WITR was only a 10 watt station, so we had the lead for a while with an effective radiated power of 1000 watts. I hosted several shows during that period, my first show was 'Pipeline' which later morphed into 'Primetime' which aired from 9:00 pm till 2:00 or later in the morning. Many listeners became friends, and my first memories of Pat Thomas was meeting him, and his roommate Bruce, at the Record Archive when they came by to tell me how much they liked my show.
Pat: Being in Absolute Grey, I got asked to be a DJ on both WITR and WRUR, I had regular shows on and off at both stations for awhile. Its where I first heard a lot of other interesting indie-music and college rock.
EA: Rochester certainly had a lot of '60's garage revival bands…Ab Grey really stands out in the scene as something different.
Pat: We were never "garage" but the thing is, we were never "new wave-y" either. Part of what made Absolute Grey what it was…even tho I was only a few years older than Matt & Mitch, I was coming in with a set of influences that predated them by over a decade. Beth, working in a record store, being the same age as me…she was somewhere in the middle.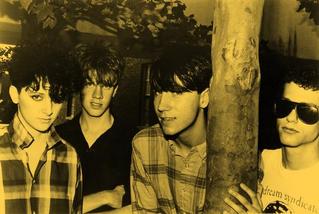 Mitch: Beth & Pat did broaden our sound, introduced me to Fairport Convention, Big Star, Suicide. I also wish I had been as obsessed with Horses, Marquee Moon, Pink Flag and Entertainment as I am now. This would have taken off some of the Echo & the Bunneymen and REM influence and pushed me ahead a few years. In general I was listening to what was coming out then. Not 7 or 8 years earlier.
Pat: To be honest, Matt & Mitch were turning me onto the decent, cool contemporary music of the day as much as I was turning them on to vintage stuff. It was a 2 way street. those guys had great taste in music. But I sometimes poked fun at them: they'd say they'd just picked up the latest Tears For Fears album, and I'd say "dude, that stuff sucks now and it will suck 20 years from now. What you should have done is gone out and bought maybe a copy of "On The Beach" or "Time Fades Away". Now he writes me, saying how he's been listening to a lot of Neil Young and I ask him "when's the last time you pulled out that Tears For Fears album !"
EA: Pat, you moved to Rochester from Corning, NY, where you had been in a few different bands…tell us about those. You put your own songwriting on hold while in Ab Grey, did your earlier songs end up on your later solo releases?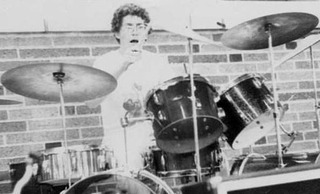 Pat: All thru junior high school and college, I played drums and (once in a great while sang) in a series of bands. In 7th and 8th grade, I was playing a fair amount of British blues rock like Free, Bad Company, and Alvin Lee. The guitar player and main singer in my first band, Sidestreet, was named Kelvin Tennant; he was into Paul Kossoff, Peter Green and guitar players like that. In '78-'79, we changed our name to Who's Next (my all time favorite rock album, then and now) and added songs by Eric Clapton, Santana, the Eagles, KISS, Rush, whatever anyone felt like playing. Briefly, I was in a Top 40 cover band; after a year of rehearsals and very few live gigs, I was kicked out for drumming too much like Keith Moon. In 1980, Kelvin and I joined up with Michael Callahan, mostly playing his original songs plus some Springsteen & Neil Young covers.
After I moved to Rochester in June 1982, I drove back to Corning from time to time, writing and recording all original songs with Bill Groome (note: he was later to play a vital role with Ab Grey as well). These songs generally fell into two styles: songs with me singing that echoed Lou Reed, and the early Modern Lovers, and instrumental songs with me playing drums that recalled mid 70's King Crimson, the jazz rock sound of Jeff Beck, etc. So in a funny way, I was doing material similar to my later band, Mushroom, some 14 years before that band had a name! The only stuff from this time period that got released, was a 3 song 7 inch EP under the name of Minor Characters, recorded just before meeting Absolute Grey (circa early 1983) but not released until January 1987, by which time Absolute Grey had broken up and was getting back together one last time.
In the first year or so that I lived in Rochester, I briefly joined a band that never played out, doing U2 covers and other "new wave" stuff and also jammed on drums with some other like minded folks who were into King Crimson and Eno. Once I joined Absolute Grey, I rarely played drums with anyone else – unless it was something directly related to the Rochester scene we were part of – like sitting in with Invisible Party when Jim switched from drums to guitar and vocals for a song or two. That kind of thing.
Ah, ok…the memory bank is kicking in – during Absolute Grey's peak years 1984/1985, I started a "just for fun" cover band (that changed it's name for nearly every gig) – doing all Velvet Underground and Dream Syndicate songs (with me on vocals) that played out several times (with Jim Huie on drums for some gigs), this band is best remembered as it had Kurt Wolf on guitar, who later moved to New York City and became semi-famous in the late 1980's/early 1990's as part of bands like Pussy Galore, Boss Hog, etc. Check out some of their albums and you'll find his name on them.
EA: I remember you telling me that you still use the same drum kit since 1977 !
Pat: Yea, its a generic student drum kit (brand is 'White Hall'). I'm not really a gear head…I play an instrument until I wear it out…and this one hasn't worn out yet! Why change…its working for me. It's quite small, the size of a jazz kit, but I pound the shit out of it and soundmen have come up to me, thru the years, and say I get more sound out of that little jazz kit than guys who come in with 30 inch bass drums and Led Zeppelinesque kits…I just hit really hard and use a certain drum head that resonates well.
EA: As a band, Ab Grey were adamant about playing, aside from the occasional cover, mostly all original material?
Mitch: When we first started, Matt did do a cover of Police and Thieves. I had zero interest in covers, but I also had no ability to figure out songs by others and to this day cannot read music even though I work with classical musicians and have even scored string parts. So we knew we'd be doing originals. I was already starting to write songs at an alarming rate. As I said, I was messing about with home recordings before this, but I was writing tons of "poetry" before I could write a song and this was really my training. In Ab Grey, I was writing most of the music, and maybe half the lyrics. I wrote on both bass and guitar and often worked out the guitar parts for Matt. He was a much better guitarist than me and brought a lot of feel to the parts I worked up. My own bass playing became a unique combination of counter melody lines and chord strumming. It was like the songs could build up with two guitar parts when needed. There was an excitement for me to write a song and then, in a matter of days, the band was playing it.
Pat: In the earliest days of Absolute Grey, both Matt and Mitch came forward with music for songs – with Beth writing lyrics as the song progressed to fit whatever they brought to the table.
Matt and Mitch weren't writing stuff together – one or the other one would come forward with a riff or an idea and depending on how complete it was –in rehearsals, we'd finalize a song arrangement together as a band. I seem to remember many songs being finished as a "band" in the early days.
As time progressed, Mitch started to come forward with more ideas than Matt and sometimes Mitch would have some lyrics as well, perhaps a rough idea of some lyrics and Beth would step forward to finish them off.
Sometimes Beth would have an idea for a riff or a melody and we'd work on that as a band. After awhile, it became apparent that Mitch was becoming a prolific songwriter (a lot of music and sometimes lyrics) and Beth was doing her fair share of lyric writing as well. Mitch and Beth made a good creative songwriting team.
EA: So the band heads to Corning and Bill Groome records a session that results in a 6 song demo cassette. Those demos probably captured the band's live sound better than any other official studio release and it still sounds invigorating & fresh 20+ years later. You sold the cassette locally. How did that end up over in the UK?
Pat: Someday, we need to release our first & last sessions together, because our last album, Sand Down The Moon, was also recorded by Bill. In regard the demo tape release: I bought a dubbing deck and we ran off hundreds of copies of that six song demo on cassette and Beth sold them by the truckloads at the Record Archive (probably sold close to 200 copies of that cassette in Rochester alone). I sent a copy of the cassette off to Bucketful of Brains magazine in England, they gave it a positive review and, because of that review, Acid Tapes in the UK contacted me, and for a royalty rate of Zero dollars & cents per tape, I gave them permission to dub off their own copies and they sold several hundred as well. At that time, it was more about getting exposure than making money. Somehow, all these years later, it still seems to be about that most of the time.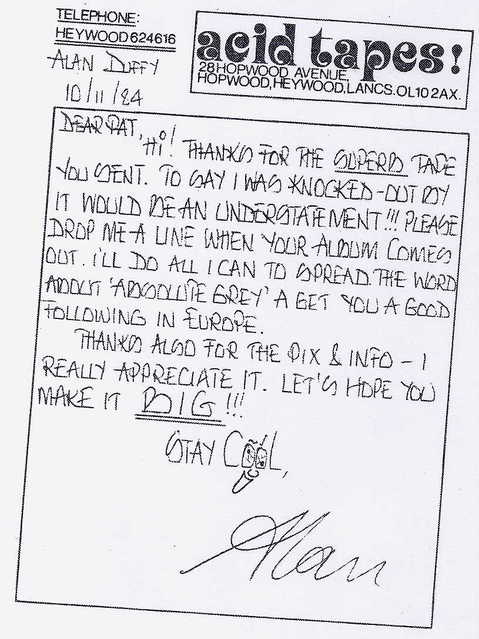 MITCH: I will say it again and again in retrospect, but I wish we did all of our records with Bill Groome, even if it meant renting a 1/2" machine and 16 tracks. He knew what he was doing…he just understood sound. I later recorded with him for my first solo album, Open Heart Geography. He'd set up in the kitchen…nice, solid but crude equipment but he'd get a clean, clear signal. Even now, when I listen to that stuff, I think holy shit…the quality is great ..when its literally being recording out of his kitchen, with one member sitting on the couch and the drums by the coffee table in the living room. I was totally happy with the result. You have to move on but you wonder what Greenhouse could have been like if we had known how to use the studio. The Saxon studios were way too clean sounding.
EA: I notice only one song from the demo tape is carried over to the album, the song 'Sidewalk'.
Pat: The cassette was already making the rounds, and there was already a bunch of new songs that needed to be recorded or else they'd disappear.
Mitch: "Watching Waiting" was our first song, we were sick of it by the time of the album. I remember Peggi Fournier asking why "Candy Canes" wasn't going to be on Greenhouse and I said it was too stupid and obvious.
EA: And she & Paul & Bob of the band, Personal Effects, were involved with Greenhouse, which came out on their own label, Earring Records. And Peggi plays some keyboards?
Pat: Frankly, we didn't know what we were doing in the studio (in terms of getting sounds, making the guitar sound good, what to do during mixing, etc). Dave Anderson, who ran Saxon was a nice guy, but I think he was also a little green in the studio himself at that time (Greenhouse was Saxon's 1st album project). So I asked Paul and Bob to stop by and help us mix it when the time came. They both had a couple of years worth of recording experience that we didn't have. They offered some ideas and just general moral support – I don't think any of us – including Paul and Bob were entirely satisfied with how the final mixes turned out. I had asked Peggi to play some keyboards on the album, because I thought it might be interesting to see how the songs could be changed in the studio (we never used keyboards live), it was simply a "production" idea that I had, that the other band members didn't like. The keyboard in the end was mixed so low, the keyboards didn't really change the song at all. When I remixed the album, I turned them up, as the keyboard part was simple and effective and supported the song in a small way – without making it much different overall. I have to credit Paul Dodd with suggesting that we issue a record in the first place – he said to me one night at Scorgies, you guys should make a single and I'll let you use the 'Earring Records' name. Me being cocky, said – heck, let's go for a whole album! We're more an album band than a singles band and it will make a bigger splash. That was cool with Earring, as we paid all the costs – they simply let us use the name "Earring", and most importantly during my early days as Mr. Manager just offered moral support and some good ideas on distribution, copyrighting the songs and the like.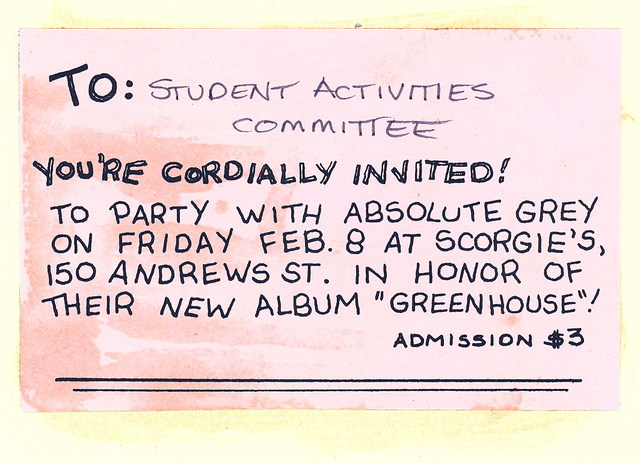 EA: On Greenhouse, the songs are becoming longer and more atmospheric, as compared to the demo tape. And live, you stretch them out even further.
Beth: That was more Mitch…he wanted the longest songs ever ! …I don 't know, it was just a contrary thing. He wanted these mood pieces. I was always thinking of whatever was contrary to the norm or formula…that's what we would do.
Mitch: We thought the songs had to be long & minimal and, to a certain extent, we were right.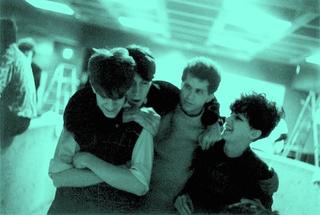 EA: Peggi thought you should make the songs shorter…
Pat: I'll be man enough to say I sided with Peggi for a couple months on that, saying Peggi was right; we've got a 7 minute long song called 'Notes' and 'Sidewalk' is 8 minutes long, let's cut 'em down to 3 minutes 50….the rest of the band thought I was off my fuckin' rocker. I was wearing too much of my manager's cap, saying shorter songs were more likely to get played on the radio, I wasn't thinking as an artist. In retrospect, I love the fact that Greenhouse is a full length album (41 minutes long) but only has 8 songs. People used to call it an ep, That's like calling that Quicksilver Messenger album that has "Who Do You Love" taking up all of side 2….calling that a 12" single, right?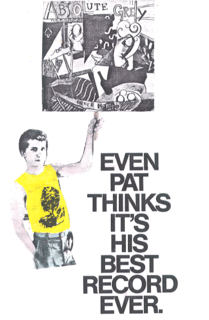 EA: Why is the album called Greenhouse?
Pat: Once the band really took off, we rarely rehearsed at Matt's house, instead we primarily rehearsed in Mitch's parents' basement. But in the first year, around the time of the Greenhouse material, we did often rehearse at Matt's in his living room. Behind his house, on part of the property, was a small to medium size greenhouse, maybe a 15 x 20 ft greenhouse, no longer used as one, there weren't any plants in it, and a third of the window panes had been knocked out. So we'd go back there after rehearsal and maybe shoot the shit for an hour, maybe before rehearsal, if it was a sunny day we might have a band meeting there. So the album got called Greenhouse, it was almost a quasi clubhouse.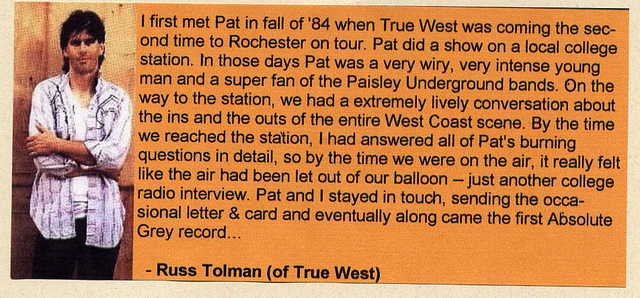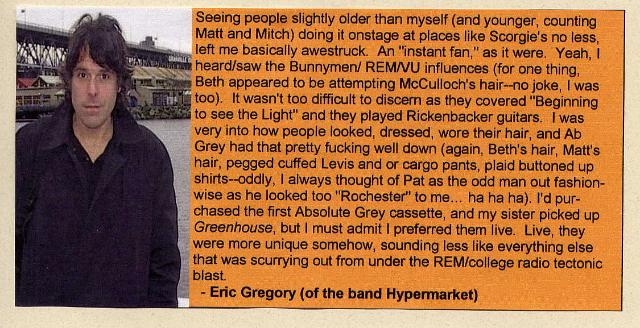 Chaz Lockwood: There was a real "tunnel vision" thing happening …. For some people, nothing mattered before or after they were part of the scene. Those that came before weren't going to know or care who Chaz Lockwood or Invisible Party or Absolute Grey were.
Stan the Man: There were legions of fans who DID "get" Ab Grey. Even to the point of inspiring other high school students to pick up instruments and make sounds of their own. Absolute Grey had the rare (at that time) ability to actually be on a peer-to-peer level with their audience. Teenagers were thrilled to be hanging out at Scorgies seeing bands like New Math, Personal Effects and the Presstones. The drinking age in NY was still 18 at the time, so it was even possible for an underage high school student to go to Scorgies and hang out. Seeing a band like Absolute Grey was even more exciting, as two of the members were 15-16 years old at the time. Personal Effects were very supportive of Ab grey, getting a slot opening for them was like being on a new band farm-team. Other bands that got their first (big) shot with PFX included Indirect Object (Essentials/Salamanders/ Hi-Risers), Colorblind James Experience and my band, Invisible Party.
Mitch: Scorgies had incredible sound quality, a great place to play. It was THE venue between Cleveland & New York. But I don't think we ever played with New Math or PE there. I did not regularly see PE until AB Grey formed. I cannot remember the exact time I first saw them (I think I was in between 9-10th grade), but the show sticks in my mind. They were a real band in every aspect: songs, skill, creative, hard working, light show… I remember how great the early PE performances that I saw were and how much they impressed me as a total effort that raised the bar in Rochester. It was funny: having Peggi grade my papers in the day (she was my Spanish teacher at Sutherland High School) and then playing on the same stage at night. I remember Peggi once saying to me "you are so filled with angst for a Pittsford kid" and I asked her what angst meant and she couldn't help but laugh. Funny the things you remember.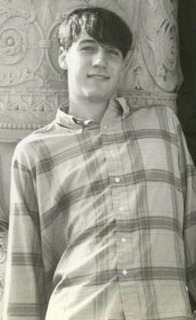 We did a show at a white cube space gallery where we just rocked and the loft space and the light show were amazing, the dynamic with the crowd was perfect. We must of have warmed up for PE and I think we took everyone by surprise. But PE was THE band in town in every aspect. New Math and PE seemed like the elder statesmen to me. I thought PE was great with Bernie and really loved Bob Martin. He was so personable and approachable. He really embraced us and liked to drink and talk. Paul was very intriguing to Will Kitchen and me. He had this physical style of playing the drums that was really endearing to us; really determined and focused, somewhat stiff movements, it seemed "new wave" and robotic and minimal.
I knew that Absolute Grey was special and the most original and ambitious band for our age group (our desire to record, combine visuals with shows and reach outside Rochester for exposure and touring). But I was also aware that PE was more innovative and seasoned than us, although on a good night we could smoke anyone in town.
PAT: After the album came out, Bob Martin of Personal Effects became a close personal friend of ours – and we had many a night drinking at his apartment, hanging out listening to Beatles bootlegs and reading some obscure Jack Kerouac articles he had from 1950's issues of Playboy. Bob also traveled with us when Absolute Grey played in Toronto in August 1985, even hopping up on stage with us to play guitar on "Memory Of You". Musically, Personal Effects and Absolute Grey were very different – the common thread was that we were both popular locals bands trying to reach out to the rest of the world and Bob Martin was great guy to pal around with – I think all 4 members of the band enjoyed his company.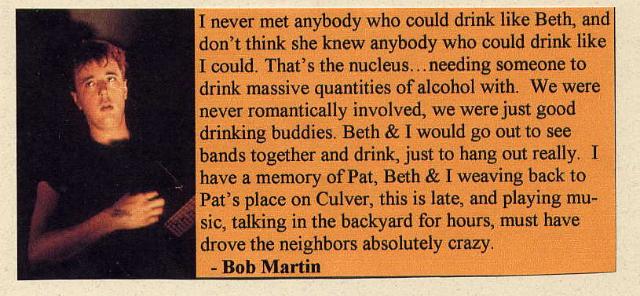 EA: As a guitarist, what are your thought's on Matt Kitchen's playing in Ab Grey?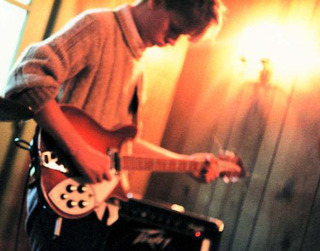 Bob Martin: he was kind of a reluctant guitar player in the band, ya know? I mean he wasn't really a guitar player, it was chords,…that "feel" is part of what brought them all together, brought the magic of that band together, with the verve or whatever. Most of the melody was carried by Mitch on bass. Pat was always an ahead of the beat drummer, Matt was always a behind the beat guitar player, Mitchell was always a melodic bass player. Matt's inherent feel was behind the beat. In listening to their music to this day and at the time, I thought he was tremendously underrated by everybody. And I thought that in terms of the sound….it's the differences of nanoseconds but can mean everything in terms of the feel of the song. I mean, if all bands were right on the beat, then they'd all sound the same, maybe a little bit of timbre that would make the difference but, in terms of the feel, the way your body moves to it, differences of nanoseconds can make all the difference in the world. And the way Matt played…basically kept them from running off the edge of the stage.
EA: With Pat's propulsive drumming, Beth's smear of vocal over the top, the moan, the reaching out, very emotional, very personal approach she had to the lyrics and then, of course, Mitch dancing up & down with his percussive lead bass playing, if it wasn't for Matt filling in the space…to me he was the one who provided structure.
Bob Martin: I think you have to take drugs to describe each of them, Pat was the speed, Mitch was the ecstasy, Beth was the booze or the pot, and Matt was (for lack of anything better) the seconal or reds…all at once… on stage, and …you take anyone of those things away, it becomes an entirely different trip. It was inherent in the core of the personalities, the type of musicians they were, and what they did. The metaphor rings true all the way thru…and…the cool part about it is…when it all worked together, when it was the one giant speedball or whatever, ya know, …there is no metaphor for all those drugs together,.., yea there is…its called Absolute Grey ! It all worked very well,…so you've got those volatile personalities, each with their own, very strong, dynamic, and beyond that, all I can say is that's where the music came from; the friction and also the emulsion …the emulsion that kept the friction from wearing it out…and occasionally, the emulsion stopped, and the friction became overbearing. Fortunately, the friction never stopped and the emulsion took over or it would have been middle of the road.
MITCH: I found this demo today I did for Beth of some songs (two of which have never been recorded by anyone) and there were a couple of live Ab Grey songs at the end and I really heard what Bob Martin was talking about regarding Matt playing behind the beat. To me, it created this unique tension, a pull between the propulsion of Pat and me and then Matt stretching out the dynamic of the song with a delayed phrasing.
Beth: What Bob said is very interesting … probably the most descriptive, thoughtful comments I've ever heard on Matt's playing. Matt would be very hard to substitute for any reunion as he's so integral to the sound that we had. Some of the guitar players that we know would have a very different style. (note: Mitch & Beth both later decided against an Ab Grey performance planned for the Scorgies reunion in Rochester Nov. 21, 2008, since Matt was unable to attend. It would have been the 1st Ab Grey reunion since 1987. Hopefully one day !).
EA: Back in the day, your live shows used a lot of multimedia elements, which was a very interesting aspect to the band.
Beth's: there was the Andy Warhol show at Scorgies, that was Pat's idea, which was cool. (referring to a May 25, 1984 gig where a slide show of Warhol art & images were projected behind the band).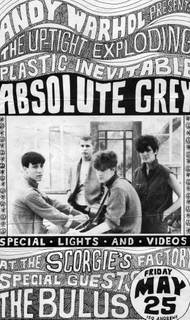 Pat: it was Stan Merrell who hooked us up with Tony and Muriel as Stan knew I was hankering for a 1960's styled Velvets/Warhol light show and we got it!
Mitch: The work with Tony and Muriel was key. Another time, they made a video with sidewalk footage that played when we performed the song 'Sidewalk' which was about my first time visiting New York. The only other non-concert footage of the band was a video I shot for 'Willow'. This was in a field across from where Matt lived. There was other footage as well. It was an enormous video camera that Duane Sherwood let me borrow from school.
Duane, in retrospect, was the Brian Eno of Rochester; he was the Audio Visual person for Sutherland High School, he also did all the lighting and videos for Personal Effects. He introduced me to filmmaking (I was in the AV Club). I believe he was also close friends with New Math, worked on their visuals. Duane and I recorded an EP which has never been released. It is called Table Manners. I had extra material that did not work with Absolute Grey, more abstract and he just ran with it. We spent a few days recording and he than mixed at home. It is pretty cool. In retrospect I wish we took that farther and played live with me on bass and guitar and Duane on tape loops and other effects. No one has heard this music. I only have one copy of the mix down tape with cover art by Duane. Hey Duane, do you have the master tape?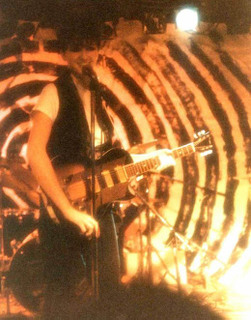 I remember, for one gig, painting the big swirling banner behind the band with my girlfriend at the time, Lorraine Markus. Then there was the Absolute Grey t-shirt I made that was a picture of Lorraine wearing a head scarf. I silk screened less than a 100 of these in the practice space in my parent's basement. We worked on making the silk screen in the school office, using the copier to expose the image. If anyone has one of these shirts, please send me one !
Eric Gregory (of the band, Hypermarket):
I bought the 1st copy of The Notebook–Pat's zine wherein he did a feature on Big Star (which if memory serves) consisted of xeroxed reviews of the 1st 3 BS records from Christgau, Rolling Stone Record Guide, maybe Trouser Press?), a brief but hilarious interview with Lou (New Sensations tour–Pat handily kissed his ass), record reviews–almost all by Pat (he actually suggested the Bunnymen not show their influences on their sleeves so readily!), a xeroxed repro of the famous Lou/Bowie kiss, and assorted poem-lyrics from Stan the Man Merrell (one I recall quoting J. Cash's "Folsom Prison Blues"). As much as I privately argued with many of the opinions and statements therein, I was obviously hooked and compelled enough to write Pat c/o The Notebook and take him to task for his critically questioning the Bunnymen and Bowie, particularly when his blatant idolization of Lou was so…well, blatant! "Enough already with the Lou Reed articles ! He didn't do anything that David Bowie didn't do better and more interestingly later". I was surprised that he actually published my letter !
Pat replies: So Eric wrote that letter? I should kick his ass! Just kidding, that letter pissed me off, but I printed it anyway, not sure he signed his name to it, if he did, I didn't know him anyway until about 10 years later. The Notebook was a fanzine of about 20 pages or so that came out about 4 times during 1984/1985 – it was mainly distributed locally around Rochester, it was NOT an all Lou Reed magazine, but I was proud of the fact that I got to interview Lou on the telephone for the magazine and I did in-person interviews with Allen Ginsberg (who also gave me a piece of previously-unreleased poetry to print in the mag), Rain Parade, a couple of local bands. Plus tons of record reviews – mainly of Paisley Underground type of stuff.
EA: Didn't you also write for The BOB?
Pat: I did, but mainly after Absolute Grey broke up, in the late 1980's – interviews with the Dream Syndicate, Russ Tolman of True West, Kendra Smith and David Roback, Barbara Manning, etc. I also managed to get one article into my favorite magazine of the time: Bucketful of Brains, they printed a concert review I did of the Dream Syndicate playing a giant rock festival that I saw when I was living in Denmark in the summer of 1986. When cd's first came around, I did a CD reissues column around 1990 or so for another nationally distributed mag called Jet Lag.
EA: Who did you see as your peers during your heyday?
Pat: We were Brother/Sister bands with Invisible Party – Chaz Lockwood, Jim Huie, Stan Merrell – were our main pals, Beth and I loved that band, loved hanging out with them, jamming with them, partying with them, etc. That's my strongest memory of another band in our scene. Being in one of the most popular bands in Rochester at the time had its advantages – other less known local bands would encourage me to check out their shows or give me demo tapes, and from time to time I came across stuff I really liked. I thought the Bulu's were cool (sort of an Iggy and the Stooges type thing, they didn't release any recordings). This guy Charles S. Russell (who didn't do any gigs) put out 7 inch single on Jargon Records with an amazingly mindblowing cool version of the Velvet's "All Tomorrow's Parties" and really cool arty song of his own on the B-side. There was a group of poets who had a "joke" band (can't remember their name), in which they did a "spoken word" version of the garage band classic "Louie, Louie" as "Louis, Louis" changing some of the words into French that was funny and very unique. The Raunchette's were an all girl garage/punk band that after doing some recordings on Jargon Records, moved to LA and put out a record on the legendary Bomp label. Those girls were wild and crazy in more ways than one, I always looked forward to hanging out with them. The Chesterfield Kings were in a league of their own – they didn't really "hang" out, but when they played a gig, it was like the Rolling Stones had just hit town circa 1966.
STAN THE MAN: As far as the brother/sister bands go, I definitely felt it was a race to get our bands together. We literally were playing out less than six months after Absolute Grey's debut; I had been managing a Surf band "Cousin Al and the Relatives" and felt the need to start my own band when the lead singer Cousin Al didn't want to follow any of my musical and marketing ideas. I had begun to write songs with Chas and Jim at Russ Lunn's house. After a while, I quit managing entirely and the entire band minus Al joined me to form what would become the Invisible Party.
EA: The Invisible Party house became sort of a scene junction/party zone…?
Pat: The 157 Richard St. house wasn't so much a party house as much as this incredible, creative center; you'd show up not so much with a beer but with a creative idea or an instrument, something in your hands… you'd have Russ in 1 room editing film or somehow doing a video, right? You'd have Stan in his room maybe putting together a radio show or DJ event, he was compiling the music for it. Then you'd have Jim maybe writing a song for Invisible Party, right? You had these 3 highly creative guys who were friends, all a little different from each other, and obviously Jim & Stan were in a band together, but also all had their own separate thing. Everybody's room would have their own stereo blasting, each playing different music. Myself, Bruce, the rest of Ab Grey would be over there a lot.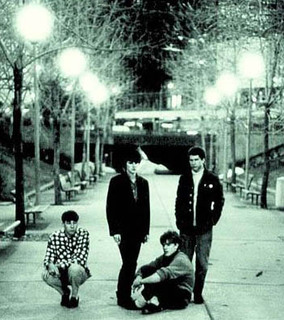 EA: For all its isolation, Rochester was on a direct tour circuit from Chicago, Cleveland, Syracuse onto NYC so there were a lot of cool bands that played gigs in the city. Any particular gigs that stand out as memorable?
Mitch: Early stand out shows for me were The Pretenders, REM warming up for English Beat, U2, Ramones, Psychedelic Furs, Elvis Costello and Talk Talk and the Talking Heads Stop Making Sense tour. One of the earliest shows I went to was 10,000 Maniacs. They were from the Buffalo area and put on this incredibly dynamic rock, hippy, psych show. Merchant was out in the audience dancing and spinning around. It was a tiny club and blew my suburban mind. For me the absolute stand out show at Scorgies was The Dream Syndicate. I remember hanging out in the dressing room studying for a Spanish test of all things, drinking and smoking and talking to what I think was a confused Steve Wynn, like who is this kid…but they were so intense and so knocked out the house that Don Scorgie jumped up on the stage before encores and said drinks on the house and everyone bum rushed the bar.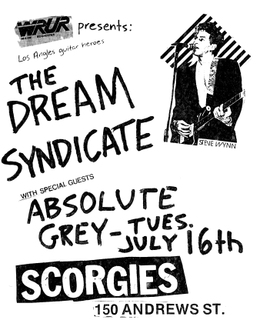 Beth: I really liked the Replacements, when they played here, because they were so rebellious, and I loved their music. They were my favorite band of the '80's probably.
EA: Also, Alex Chilton came to gig in Rochester and an ad hoc band was formed to open for Chilton; tell us about that?
PAT: That was Stan Merrell's idea -as he wanted Invisible Party to play with Chilton and, of course, I wanted Absolute Grey to do it – so we both did it. Members of Invisible Party, Absolute Grey and Bob Martin of Personal Effects all combined into a one time only super group called 'Pet Casket'. The highlight of the night was going to an all-night diner afterward with Chilton (he was the first person in the history of the place to order the $10 steak and eggs, the rest of us always ordered the $3 eggs and toast). I had sung lead vocals that night with Pet Casket on the obscure Velvet Underground song "Temptation Inside Your Heart". As we left the diner, Chilton turned to me, with absolutely no sarcasm, and said to me "you've got a great voice". I was floored as I don't now really consider myself a singer, I'm a drummer who happens to write lyrics and tries to sing them when I'm allowed to.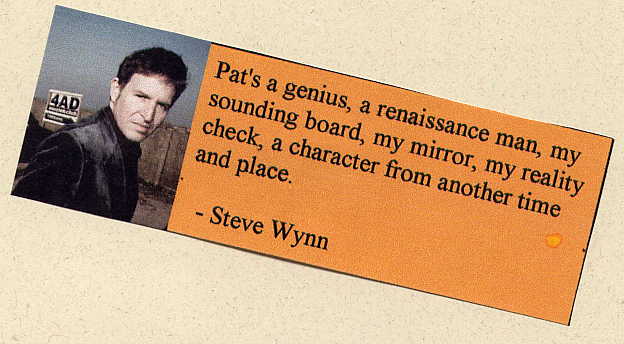 EA: Absolute Grey played at CBGBs, April 12th, 1985 (and a recording of it was issued by Acid Tapes in the UK). Tell us about that gig.
Mitch: That show was notable for me because we played Killing Birds and this was a breakthrough song for me in terms of the bass and guitar parts. To this day I love the interplay between the two and wish I could hit that high again. The song was about how I shot at a flock of birds with a bb gun and by some crazy chance hit one, but it wouldn't die. It just laid there. I went and got my brother and he crushed it with a rock.
Pat: CBGBs, hmmm,…it was all about what could have been. Greenhouse had come out…and, at that point, there's only a handful of magazines you could send review copies to…and there used to be a magazine called Rockpool; it was an industry magazine sent out to college radio stations all over the country, listing the indie charts. Industry people would read it to learn about new, upcoming bands. Rockpool gives Ab Grey, it might have even been on the front cover, a glowing, over-the-top, review: "Jefferson Airplane 1984,…without the politics". So, out of the blue, I get this call from this British guy, Peter Leek, who, at the time, managed Pollyrock (a Talking Heads style band who had 2 records out), a pretty obscure band called the Comateens, and then 10,000 Maniacs, who were just on the precipice of mega-fame, they had just signed to Electra, …nobody outside the indie scene knew who they were but 12 months later everybody would know who they were. So Peter Leek calls me and says: "well the first thing you guys are going to need is a real booking agent to get you out on the road". He was friends with a guy called Frank Reilly, who, at that point, was booking all of our favorite bands: Rain Parade, Long Ryders, Dream Syndicate, True West. He was based in New York. Peter said: "we have to get Frank Reilly to see you, and then obviously our next goal is to get you on a real label". Because Greenhouse was self-released. So he gets us the gig at CBGBs as a showcase gig. However, a couple of things happened to make this CBGBs gig not quite what we had hoped it would be: 10,000 Maniacs get a phone call that Joe Boyd is ready to produce the new album immediately so Peter Leek, who was supposed to come and watch us play and make a decision whether he wants to manage us or not, is in London so he doesn't see us. Which means that he doesn't put the pressure on Frank Reilly or any of his associates to come down and see us. So,…this showcase gig, primarily set up so that Peter Leek & Frank Reilly can see Absolute Grey …neither of them show up, thanks to 10,000 Maniacs & Joe Boyd ! So that was a letdown, but, needless to say, we got to play in the world's most legendary club, we had a great gig, But we didn't get what we wanted from the gig; if they had seen us play, even if they had said "no", it would have been better than not seeing us at all. For me, it took the wind a bit out of my sails, knowing that 2 real tasty opportunities were lost at that gig. Not anyone's fault, its just the way the cards fell.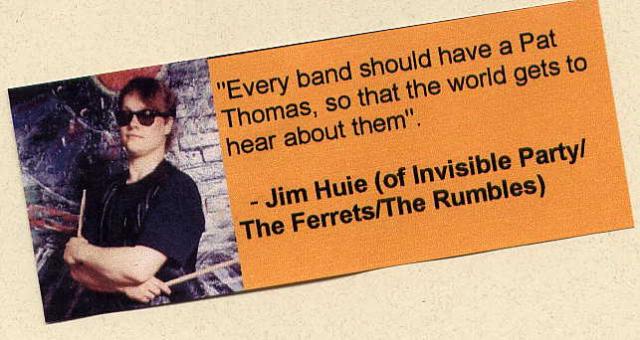 EA: Pat, how did you fall into being the band's de facto manager? Please talk about some of your efforts to spread the word and get a larger fan base for Absolute Grey?
PAT: Starting in the 7th grade, I have rarely been in a band were I wasn't the manager! It's just a role that I naturally fall into. What can I say? I encouraged the band to record the first demos and the debut album, I arranged to have those recordings released and distributed, I sent out most of the promos, I was truly a "fan" of the band, even though I was in the band.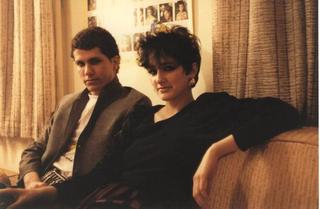 Beth: Pat was like this Media Mogul guy; when my younger brother Oliver met him, he said Pat was 19 going on 40; this savvy promoter guy. For some reason Pat wanted to be involved with Earring Records,…he could have put Greenhouse out on his own label…and later, he would have done better doing that than signing with Midnight Records.
MITCH: everything we got was him pushing for it, right? My songwriting skills would have meant nothing without him pushing for us. He got it done, he cut to the chase. Made the phone calls, paid for the mailings. We wouldn't have released the albums, gotten the gigs, the reviews, the rep over in Europe, any of it, without Pat.
EA: and yet there was the situation around the time of What Remains where he felt he was being questioned on how he was promoting the band…
MITCH: Yes, that's true. There was a point where I felt, since I was writing the songs…he was doing interviews as the spokesmen of the band, and I felt that I and the band should have been a part of those. So, I guess it was ego. I was, what, 16 years old then? But I thought: …why interview just the manager? I'm writing these songs, pouring out my heart, at least you could pass them my phone number to get a quote.
Pat: The problem was that my pretty decent manager skills were overpowered in my youth with a giant ego that felt that I didn't have to answer to anyone, including my own band members on how I was running the band's business. Now some 20 years later, the ego is smaller and the manager skills are even better. Too bad Absolute Grey is not around to enjoy the new me! My only major regret was that we signed to Midnight Records and didn't hold out for something better, but with the band in a stage of breaking up, it wasn't likely that a better label was gonna come forward unless I did some masterful bullshitting, but I was too depressed about Matt and Mitch leaving town for college to do that.
EA: I saw some video of a TV interview you did with Michael Dygert on Albany's REAL GEORGES' BACKROOM in July of '85, and you appear to be healthy, happy, confident & going places: talking about the new record "What Remains" and even referring to an ep that will come out later. One would never guess watching it that you already knew that you were breaking up. For quite a few fans, the "What Remains" album is the peak moment of Ab Grey: uniformly strong songs played well and with vocals even more heartfelt than usual. Tim Lee of the Windbreakers, who produced the album, remembers it as one of the more fun projects he's been involved with.
Pat: well, for starters, we were stoned out of our minds during that interview, watch it again, we were feeling no pain !
Beth: I didn't like the sound on "What Remains". Its so stark, it needed more oomph.
MITCH: Well, I like it. The production is a real non-Saxon sound. Clear signal, no compression. Just straight up recording. I think that was Tim Lee's influence on making it sound very raw in the recording quality of it. Maybe there could have been a hair more, a touch added here & there. But sometimes you have to draw the line. Generally speaking, I wish someone had heard us back then and had taken the time to work with us to capture our rawness and beauty in the studio, editing out some of the material. There was a lot of material, or we could have written more on the spot.
Photobucket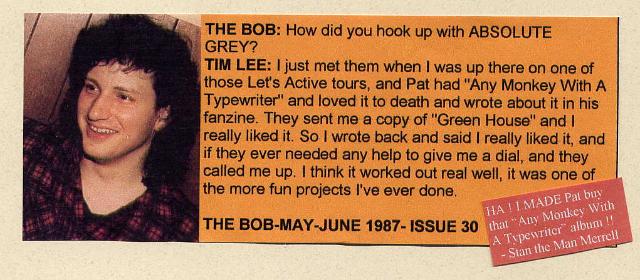 EA: You signed to Midnight Records in NYC and "What Remains" came out on that label, and "Greenhouse" was re-issued on it as well. At the time, the signing gave a few local bands hope, that it was possible to be signed by a New York label.
MITCH: In retrospect, I think I felt dissociated with the Midnight deal – it just happened, obviously through Pat's efforts – but it had meaning for us and other bands. We were thrilled to see Greenhouse get picked up beyond Rochester and have a contract in place. We got three records out of Midnight, but no support for touring and very minimal promotion. When we played in New York I believe we visited the shop in the Chelsea area and they were like, who are you? I am not sure why they signed us.
Pat: Well, here's the full story. We recorded "What Remains" and I focused my sights off fairly high in the sense that I tried talking with Homestead Records, which was a very happening label at the time, and Enigma, Restless, Twintone. We started off with all the fairly big indie labels across the U.S. and got very little response. Meanwhile, we had put out some cassettes in England on this little company called Acid Tapes. So the main Acid Tapes guy, who had a cassette of "What Remains" that I'd sent, said he knew all the indie labels in England, and would shop around to labels there. Well, I assumed, because Demon Records was the most likely label, because they had all the Paisley Underground bands at that time, that he had talked to them. So when he came back to me and said "I tried everybody – forget it" I assumed that that included Demon, as that was the most logical label for him to go to, right? So, finally, Ab Grey is breaking up for the first time, Matt & Mitch are going off to college, and so the only offer we get is from Midnight Records in NYC. None of us were very excited about it but at least someone is going to put it out. Because the band was breaking up, and because I was somewhat overly confident, I didn't read the contract that carefully, nor did I think it mattered as the band was dissolving, we were lucky to get this last record out at all.
EA: And that summer of '85, you must have been running thru the gamut of emotions anyway?
Pat: The Summer of 1985 was bad emotionally, really bad. I was pissed at Mitch (and Matt to a lesser degree) for leaving for college. Mitch suggested I stay in Rochester and hang out and wait for him to come back during school breaks and play then. I said, no thanks – that's not my idea of fun, so I packed my bags to move to Denmark for a year, read Jack Kerouac, Burroughs, do the beatnik thing.
So, on my way to Denmark, I stop in London. Demon had a little side label called Zippo, in fact most of the US Paisley bands were on that imprint. So I go to Zippo to hang out, because its also a retail store, and I start talking to the guy, and of course he was aware of Absolute Grey. And he tells me that he had never heard the new album, he had not been offered it. So I immediately give him a cassette. I talk to him a few times while I'm there. I move onto Denmark. Next thing I know, I get a phone call from him, saying "yea, I'm ready to put this out for Europe". At this point that's the coolest label you could be on for the style of music that we were doing, as all the bands on that label like Thin White Rope, Dream Syndicate, Rain Parade, Long Ryders…they all eventually made their way over to do some touring. So to me, I saw this as…hey, maybe the band can reconvene next year, next summer, whatever (when everything blows over). This might actually be the thing that would kick start the band back up. The hippest label in Europe wants to sign us, we'll sign and then we'll work it out.
So then, unfortunately, the contract with Midnight Records is worldwide. But still, all is not lost because, in those days, it was very common…in fact Enigma would do this and they were a huge label: they would sign a band worldwide and then they'd license to Demon for Europe, knowing that Demon could sell far more copies as a domestic release than Enigma could as an import/export and it being a domestic release meant that you were that much more likely to tour, right?
EA: but J.D. didn't want to do this?
Pat: Frankly J.D., being French, he pressed his records in France, had been running his own import/export business for years, and so he looked at it that he would make less money. He was never into developing bands for the long term, he wasn't looking at the big picture, he wasn't thinking if he licensed it to Demon, and the band becomes popular, and winds up selling 10,000 albums and becoming big in Europe, in the long run he'd make more money. He was looking at it from the small picture: he'd rather sell 1,000-2,000 lps in Europe himself, and make all the money then Demon selling a couple thousand albums and he'd make less money.
EA: and, ironically, he's still selling stock of the album out of his warehouse to this day !!
Pat: yea, exactly. But one of the most disappointing moments in my musical career is the guy from Demon, he had had a conversation directly with J.D., on my behalf, he called me up and said "Dude, you fucked up, …we're done". And I hung up the phone and I knew that there was nothing I could do.
Mitch: I had dropped out of high school, was touring, recording and hanging out with interesting people. Soon I'd be heading to Oberlin. Things seemed right. I am baffled now that I did not see all of this through Beth and Pat's eyes. It was not until I reached Oberlin and ended up in a dorm and was just another freshman that I realized what I had lost. In Absolute Grey I had a vehicle for expression, there was recognition, I was associating with adults, I had an identity. Oberlin ended up being a true crucible for me intellectually, emotionally and artistically, but during the first year I had no productive outlet for the head of creative steam I built with Absolute Grey. There were classes and steep learning curves on many fronts, but I felt corked up after having experienced Absolute Grey.
I arrived at Oberlin to find that Greenhouse had been ranked one of the top records of the previous year, but, when I joined WOBC as a DJ that first semester, no one knew I had been in that band. The songs were in heavy rotation. Finally, one day I was out in the quad and someone put a speaker in the upper floor of the WOBC building and starting cranking Greenhouse and What Remains and yelling, "he's down there!".
I went to Oberlin because I saw quite quickly what the life of the indie touring musician entailed and it did not impress me. I had also spent a lot of time at U of R and at the WRUR and WRIT stations. College was a natural progression. I was not challenged at high school, I was dying to learn and get to Oberlin, a place I literally wanted to attend since 5th grade. My "mentor", a writer, died when I was in 5th grade and at his wake someone saw me sulking in the corner and started talking to me and asked what I was interested in and I said architecture. By coincidence this person was an architect. A few days later I received in the mail a copy of the Fountainhead by Ayn Rand with the inscription, "Good luck with your career as an architect." I have this by my desk as I write. Really hard to believe after all of these years. And it was prophetic, seeing as I run an urban design /landscape architecture office.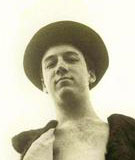 One of the people I got to know through the band was Andrew Hudson who was at RIT. He said, when you check out Oberlin, have my sister Landis be your campus guide. I visited the campus the night after we played a large show at Hamilton College in upstate New York. I had a raging fever. My dad was driving. There was an incredible amount of snow. We pulled up to the first light coming into to Oberlin and this girl rides by on a gray bike with blue leggings, a black dress and a page boy hair cut. I was struck by her beauty, dress and verve. It was Landis. The very first Oberlin student I saw. I didn't realize this until I knocked on the door of her room later and made the connection. I was completely madly in love within seconds. We've basically have been together since 1984-5. She actually came to Rochester the summer of 1985 to study photography at the RIT and came to some shows. I was still seeing my other girlfriend in Pittsford…so it was awkward… but the writing was on the wall. She was at the wrap up picnic party we had in the back yard of Saxon studio after finishing recording 'What Remains' with Tim Lee.
EA: In 1986, Mitch & Beth do an ep (on the Midnight label) called Painted Post. How did that come about?
Mitch: During my freshman year, I continued to write songs but it wasn't until the summer that Beth and I had the chance to record Painted Post at Saxon Studios. I also gave a lot of thought about not going back to school. But in the end, the pull of academics and my girlfriend, Landis, was more powerful.
Pat: Matt decided for some reason to sit that out, I don't know why. I was in Denmark, then. They spent the summer recording the album and looking for a drummer and guitarist to replace me and Matt with plans to tour, but when they didn't find anyone, they never played any shows that summer. What pissed me off: Mitch & Beth sent me a "you're out of the band" letter. (and also letting me know they were keeping my share of past royalties to help promote the band that I was no longer in !?!!?). They should have sent me my share (it was like $250).
EA: well, things must have patched up, because the following summer, all 4 of you reconvene to make 1 final album, Sand Down The Moon.
Pat: When I got back to town in early 1987, we all decided to give it one more shot during Matt & Mitch's summer school vacation. I was fine with that, it was better than nothing and for me – as it turned out, we made our best music ever on that album.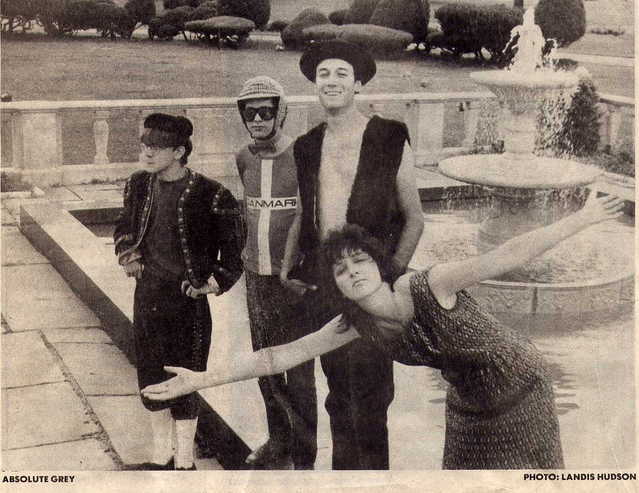 Mitch: At Oberlin, I had survived my freshman year and, by my sophomore year, I really started to come into my own as a writer and artist. I developed my own independent major art show and was working closely with two professors. I had also continued to write songs. 'Sand Down the Moon' has some of my most favorite Absolute Grey songs.
Beth: That album was a big change, that was when we started developing our music. At first I didn't like it back then, because I didn't like the production but, when I listen to it now, I like it better than anything else. We're coming into our own.
EA: It was a one-off, right? Do a last tour and album with the band only temporarily together for that summer.
Beth: Right….that's probably why it was as good as it was; we'd gone off and been apart for awhile with different life experiences.
EA: But, why was it released on some small label in Greece, DiDi Records?
Pat: some crazed fanzine editor there hooked us up with the label; for some reason we were popular with the freaks in the Greek underground !
EA: Tell me about the tour that summer. There was a problem with a booking agent?
Pat: when I returned from Denmark – Beth was now "acting" as the band's manager (I'd been stripped of those powers when I was booted out of the band – I was now only the band's drummer). So, she, in good faith, found a booking agent (can't remember his name – but he also booked the Chesterfield Kings, so we figured he was legit). Anyway, she met with him a time or two – gave him a bunch of press kits, cassettes to send out to clubs, etc – and he seemed like he was into setting up a decent length, good sized East Coast or national tour for us – for the summer of 1987 (she met with him in the early spring of 1987).
But then – she never really followed up with him (and since I wasn't in the loop, I didn't contact him nor did I bug her about it). We had some rough idea of when the tour was supposed to start – she called him about 2 weeks before this "big" tour was supposed to start and asked him what was up? he replied that he hadn't bothered to do anything at all – that there was no tour ! So I quickly pulled together the Albany, New York City, and New Haven shows for a mini tour.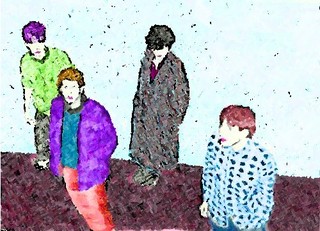 I briefly talked to Mike Cloward of 28th Day in Chico about setting up some West coast shows – which Mike was totally into – but when Mike said he needed to get paid for his work (which I agreed he should be), the others in the band were like "why should we pay him?" – I replied – "because all booking agents need to get paid for their work" – but despite all that – it was a bit of stretch since none of us had any money to bankroll a real tour. However, had that Rochester guy actually booked us a real tour, we would have done it for sure; we were all into that idea and had planned on it.
We spent the first half of the summer rehearsing, working on new material and getting ready for a big reunion gig in Rochester in early July. That gig was successful and a lot of fun as tons of people turned out for it. Several weeks later, days before we were set to do a mini-tour of the East Coast, we played a small gig in Rochester just for fun. As I remember Matt and Mitch were a bit drunk perhaps and I was in a weird, pissy mood and Beth felt that we (as a band) had embarrassed her on stage – by not playing at our best. After the gig she was very upset with us – and frankly, I don't think the rest of us really understood why she was upset.
Next day, she announces that she wasn't going to go on the tour with us. Mitch and I discussed it – and we even considered touring anyway and playing all the new stuff as instrumentals. But we also knew that we needed to have Beth on the road with us. I thought she was bluffing until the morning arrived to leave on the tour and she wouldn't answer the phone. I drove over to her parents' house, nobody was around and the door was unlocked, so I let myself in. I went up to her bedroom (it was probably around 10 am) and she was in bed sleeping. I woke her up and she began screaming at me to "get out of the house", "what was I doing there?", "she wasn't going on the tour", etc. After about half an hour of begging (from my side) and arguing (from her side) – I think she began to realize that Mitch and I were serious about touring without her, if need be. And that it was important for her to tour as well – we'd all worked too hard to toss it away. Although she wasn't excited about it, she finally agreed to come along and we set off on the road for the first gig later that day.
That mini-tour was 3 shows: Albany, New York City, and New Haven. I think we were on the road for 5 days. It also included a stop in Woodstock (not to play, but just to walk around the streets where Dylan and The Band once did). We also did a 1 day gig in Trumansburg, NY.
Fact is, Beth knew it was the final go-around for the band and she couldn't really allow herself to just enjoy it for what it was (which I think gave us our best album: 'Sand Down The Moon'). Matt, Mitch & myself just enjoyed ourselves and didn't get hung up on it being the final go-around. I'd already done that (gotten emotionally bent out of shape) in the summer of 1985 when we broke up the first time, after making 'What Remains'.
Also, I should mention: during the whole year of 1987, since my return from Denmark, I was writing songs and lyrics like crazy and recording it all with Bill Groome, down in Corning, co-writing on guitar and recording with various other musicians sitting in. The only Rochester guy really part of my solo recordings was Chaz Lockwood, who played lead guitar on a fair amount of the studio sessions and a couple of live gigs we did during 1987. This stuff became the cornerstone of my "solo" career when I moved to San Francisco in late 1987 and again when I moved to Germany in the early 1990's. These "Minor Characters" recordings have been released in piece-meal bits on various vinyl LPs and CDs under the name Pat Thomas and sometimes I later re-recorded them, much to Bill's disappointment and put them out that way. Someday, a proper Minor Characters anthology needs be assembled – for now, much of the original 1987-era Minor Characters recordings are part of a CD from Germany called "Pat Thomas: St. Katharine", released in the early 1990s.
EA: Its only recently that I had a chance to hear the Painted Promise ep and was just floored by Beth's singing on "Closer Apart" with absolutely gorgeous vocal overdubs and Mitch's simple guitar accompaniment. Her singing on that ep and on the '87 reunion album "Sand Down The Moon" really shows how Beth's voice, which has always been the most distinctive element of Ab Grey in its power, passion and lack of pretense, has grown into a great voice. 20 years later, I'd expect that its only become richer with life experience, as indicated by Beth's back up on Mitch's 1995 solo album "The Hive That Is My Head". Won't someone please get her into the studio ASAP ?
Pat: short of going to Rochester myself to produce it and/or play drums on it – I've begged, pleaded and insulted Beth for years – anything at all to get her to make a solo album.
MITCH: Agreed. Closer Apart is amazing, but a hard reminder of some experiences I was having with Landis at the time. I worked with Beth on my first 2 solo records not only because she is amazing, but to keep her motivated and show her that you can move on. I don't know. I should just take some of my current demos and make a record with Beth, but I would also like to see her work with someone new and totally bust a move. She is so talented.
Beth: I regret that the band members live so far apart. Because we could still be playing music, I think we could still be writing and playing and really still have that chemistry. And to have even better material. I'm out of the loop on the Rochester music scene because I've been living out in Victor, about a half hour from downtown, I'm a single parent, which doesn't give you the same freedom to get out, but I plan on moving closer to downtown soon. I'd like to meet musicians and get back into that scene but I'm right now focusing on my art work. After that, maybe I can work my way back into the music scene. I'd love to do it but I just can't find people to work with.
EA: Pat says you are too picky, but after Ab Grey,…sure. It would still be wonderful to hear you even in a different setting musically. If Ab Grey got together again today, it probably wouldn't sound the same. Mitch certainly wouldn't have the same bass style. Pat's drumming has changed, matured.
Beth: Right,…because we were different people back then, too. I think I'm a way better vocalist now than I was then.
EA: What new bands, say from the last 10 years, are you grooving to?
MITCH: here is a cross section:
DJ Olive; DJ Koze; Murcof; Grizzly Bear; Wolfgang Voight; The Field; My Mourning Jacket; Beck; Lighting Bolt; Cat Power – total crush; Colleen; Fiery Furnaces; Kangding Ray; Love of Diagrams; Tosca
Beth: I like "Wired All Wrong", have you heard of them? They're a California band. I think they're pretty cool. Also, my boyfriend's son is 17 and he's been turning us onto different stuff…and I like a lot of it but I don't remember any names.
Pat: Vetiver; Devendra Banhart; Soundtrack Of Our Lives; Moore Brothers; Sean Smith (bay area); Ray LaMontagne; Evergreen Dazed; Fern Knight; Nicolai Dunger (Swedish); …and then some previous to last 10 years: Elliot Smith; Grant Lee Buffalo (nee Phillips); Beth Orton; Epic Soundtracks
EA: What are you up to now?
Beth: I just got a studio in downtown Rochester. I make signs for bread & butter but I'm a fine art painter and I do portraits. I lived away from Rochester for about 18 years and I moved back almost 2 years ago. I've been on the waiting list to get this studio downtown, its in a really cool building, it's 3 floors of artist studios, in an Arts section of downtown. Really affordable, and I just got in last month ….so I am excited. Late '80's I went to the School Of Fine Arts in Boston and then moved to The Berkshires in Western Mass and that's where I started a cooperative art gallery. There is a really good art scene in Rochester. I have to get a body of work together for an Art show. I left Rochester because I didn't like it but I'm realizing that it has everything that I really want here. I like the people here,…they're really progressive. There's a huge art scene, probably because RIT is an art school, there's Eastman School Of Music, Geva Theatre and so much more.
Pat: Currently, there's 2 projects happening with my band, Mushroom, that are completely different than each other. First up, there are plans to do the Who's Lifehouse material live in 2009. Mushroom won an award in the local rag, The East Bay Express, a couple of months ago they did a "Best Of The Bay" issue, ya know…best Mexican restaurant, best place to get your shoe shined, and sometimes its real generic,…like best jazz band, best R&B band. It was kinda of cool, for Mushroom they came up with a one-off genre "best krautrock, funkrock, jammed out, psychedelic band". Right next to our listing was an award for Patti Spiglanin, about her amazing vocals. Patti's been in the sort of folk rock, alternative rock scene for 20 years. I've kind of followed her career from a distance, and for the last 10 years I've had a desire to have her sing with Mushroom, because she doesn't sing like a waif, she doesn't sing like a little girl, she sings like a woman who's been around, and yet she's not doing a Janis Joplin, bluesy thing either, she has the confidence of a Chrissie Hynde and quite possibly even a better singer than Chrissie Hynde. Anyway, her award just happened to be next to ours, and I took that as a message that it was time for me to pick up the phone and ask her if she wants to do something. And, to my surprise, she was really, really in to the idea. I didn't know what sort of covers she'd want to sing, so she comes over to my house a month ago, and I had a stack, a cross section of albums to play her to narrow down some covers to do. And I threw on "Love Ain't For Keeping" by The Who. And she turns to me and says, "Who's Next is my fav record of all time". And its my favourite album of all time, too. So, we do a gig at the Starry Plough in San Fran and it goes really well. people came up to me and said, man that Who's Next thing you did was devastating. My keyboard player, who hasn't given me a compliment in 6 years, said, man you out Keith Mooned Keith Moon tonight. I've long been obsessed by Townshend's whole Lifehouse project, so I went to Patti and I played her my interpretation of the Lifehouse material, not the solo demos but the various Who recordings. Patti knew most of the material except some of the more obscure songs, and she sang along. And I said, I want to perform this as a show. She said: "I'm In". I then called all the Mushroom band members, they were all into it. And so we are going to slowly learn the Lifehouse material, and hopefully by January, we're going to perform it live, but as a series of shows. Interestingly, a club owner saw my myspace bulletin about it, and he wants us to debut it at his club.
Meanwhile, the next Mushroom album has been recorded, mixed, and put to bed, which will come out next Spring, and it couldn't be more different than the Lifehouse project. It's a collection of acoustic, sort of raga rock, instrumentals and a bunch of ambient Brian Eno sort of Another Green World type material. The handful of people who've heard it have said it's the most diverse, different Mushroom than anything we've done in the past.
EA: so Beth, what does your daughter, Indiana, think of the music of Absolute Grey? And Mitch, your twins have grown up with you playing music for your solo albums? Do they show signs of musical inclination?
Beth: I've shown her the old videos and she wasn't very impressed. (laughs) I would be SO fascinated if my Mom had been in any kind of music…if she had been a singer fronting any kind of musical group, no matter what. I'd be so fascinated…but she just rolls her eyes ! and says, "what WERE you wearing?" …she just kind of turns up her nose at it. I think if I was in a band now and she came to see me…she'd love that.
MITCH: My seven year old identical girls, Pie and Lulu are intrigued that I am a musician, but hardly impressed. There are guitars and amps all over the house, thousands of cds and books, so I think they get the idea, but they are more into books on tape, reading and drawing.
When they started first grade two years ago, a big feature story on me came out in the Portland Press Herald with a large photo. The teacher hung it on the wall. I think this made an impression. They tell people that I write songs and design cities. I don't really play my stuff or Absolute Grey, but they hear me writing music all the time and they listen to whatever is playing in the kitchen when I'm doing dishes. The Pylon reissue, Prefab Sprout, Dylan…
I have heard Lulu singing a melody to a new song after only hearing it a couple times. They say they want to be authors with Pie writing and Lulu illustrating.
EA: How do you see the band's legacy 20+ years down the road?
Pat: Legacy? well, it's cool that here we are much later in life and we're being interviewed by someone who didn't know us back in the day !
MITCH: I am not too sure about a legacy. It was one of the more exciting periods in my life. There is so much great music out there and I think we made our mark, no matter how minor. Looking back, it is rather astonishing how proficient we were as musicians and absorbed our influences to make our own sound. Sometimes I do think we got lost in the post rock wave of bands like Tortoise (and other Oberlin based bands such as Come). It was like we went out with the tide and now I see bands like Fire on Fire or Vetiver who go on about Nick Drake and Sandy Denny and we were totally absorbed by that in the 80's. A younger generation are unearthing this music! So I wonder if Absolute Grey might be "discovered" and become more hip than when we were active.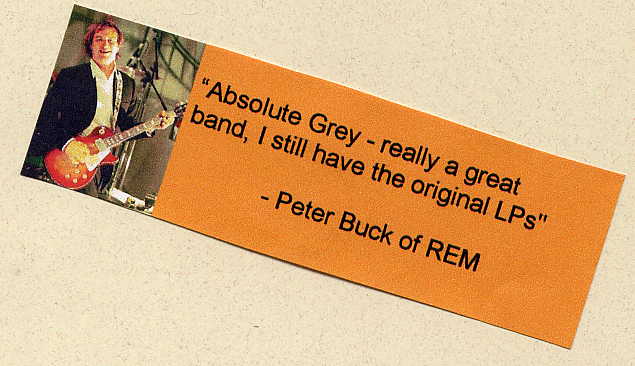 Steve Wynn wrote recently: "I'm all for bands reuniting. Part of–what do you call it?–closure".
And, it seems to me, the members of Absolute Grey could benefit from bringing it full circle, even if its just for one day, a glorious get together back in Rochester to find out whether the friction or the emulsion rules the day. Odds are it'll never happen as Matt remains the Reluctant Guitarist. If it did, its certain they wouldn't sound the same…it would be richer, full of 20+ years worth of life experiences, and welling up from a deeper, and different, mother lode of influences. Undoubtedly, they'd still argue about the same old shit, but then…when the drug that is Absolute Grey hits the vein, they'll smile, knowing a taste of something that only those 4 people can know: Lightning strikes. Absolute Grey got lucky. It was this rare thing. How the hell does that happen?
http://www.myspace.com/absolutegrey http://www.absolutegrey.com/
1 Comment on "Absolute Grey: Tear Away"
Comments are closed.