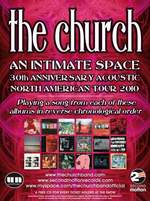 In anticipation of The Church's current "An Intimate Space: 30th Anniversary" acoustic tour, author Robert Dean Lurie looks back at last year's critically lauded album Untitled #23 and the best live show he's ever witnessed by the band. What he sees are New Beginnings.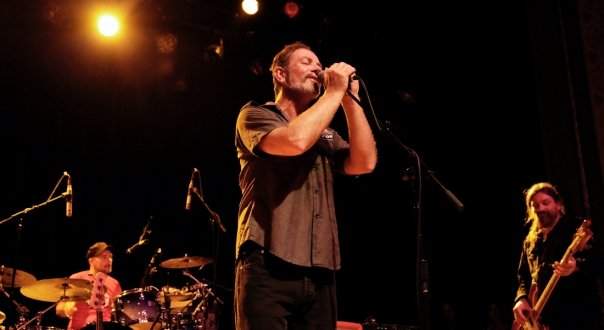 The Australian group, The Church, are doing something really special to celebrate 3 decades as a band: they've undertaken an acoustic tour through North America this month billed as An Intimate Space 30th Anniversary Tour, wherein they play one song from each of their albums, starting with last year's Untitled #23 and then slowly work their way back to the debut album Of Skins and Heart from 1980, relishing the journey they've shared together along the way. The lucky audiences who come along for the ride are in for a real treat (see the tour dates at end of article).
Robert Dean Lurie, author of NO CERTAINTY ATTACHED: Steve Kilbey and The Church, reflects on when he saw the band perform last year, and their latest album which has garnered rave reviews.  However, their best performance and their greatest album may well be around the corner.
"But I Can't Let It Go"
(Further Reflections On The Church)
By Robert Dean Lurie
Photos by Autumn Andel
Towards the end of his brilliant book Literary Outlaw: The Life and Times of William S. Burroughs, Ted Morgan humorously muses on the inconvenience of his subject still being alive at the time of the book's completion. While it was nice to have Burroughs around to talk to, his presence and continued creative output left Morgan with an unfinished story.
In less morbid terms, the fact that the Australian rock band The Church were still recording and touring at the close of my biography No Certainty Attached: Steve Kilbey and The Church left the narrative similarly incomplete. The one bit of closure the book had going for it was a "final" scene between myself and Kilbey—the band's colorful and unpredictable frontman. Having finished the work we had begun together years earlier, our relationship seemed to have run its course.
The thing is, the publication of a book marks a beginning, not an end. Especially when the protagonist of that book graciously offers to promote it at concerts around the world. Furthermore, when that protagonist then embarks on the most prolific and creatively rewarding stretch of his career, the "ending" begins to seem very arbitrary indeed.
No worries. It just means there will have to be a sequel.
The Church's 2009 performance in Portland, Oregon came fresh on the heels of the stateside release of Untitled #23, the best-reviewed album of the band's nearly thirty-year career. The show was also occurring one day prior to the US release of No Certainty Attached, and in the hometown of my publisher Verse Chorus Press, so all of these factors combined to make it a very special evening indeed.
Listen to a few songs from that show as you read ahead:
North South East and West > Almost With You > A Month of Sundays > Happenstance
Swervedriver's Adam Franklin opened with his new collective Bolts of Melody. He spoke to the audience a few times, but I could make neither head nor tail of the slurred vowels and consonants that tumbled forth from his lips. I wondered why he bothered; Franklin's style of performing is so internal as to make Miles Davis seem like a crowd-pleaser. But if I closed my eyes and focused on the sound, there was definitely something happening. His guitar playing is penetrating, transcendent, and loud enough to disrupt pacemakers.
The Church, of course, have made a whole career out of writing and performing similarly "internal" music, yet in a live context they present that material with evangelical fervor. You can't go wrong with Marty Willson-Piper on stage right, eyes blazing with Rasputin-like intensity as he wrests note for searing note out of his guitar. His fellow lead guitarist (and polar opposite), the serene Peter Koppes, stands firmly planted at stage left, his solos spiraling down labyrinthine pathways. Drummer Tim Powles wrests the ethereal clousongs back to earth and, lest they misbehave, punches them in the face (This is, after all, a rock band). Kilbey is the man in the center, locking it down with his molten, bottomless bass while his rich baritone caresses the lyrics and sends them out into the world.
This has been the Church's live configuration since 1996, when Koppes returned from his extended shore leave and Powles solidified his position behind the kit after a Spinal Tap-esque succession of predecessors. A lifetime of off-scene drama has played out since then, but onstage the Church have done nothing but coalesce into a tighter and tighter unit. At this point, the notion of replacing any one of these men with another musician seems inconceivable. Needless to say, that was not always the case with this band.
As for the concert, not only did it not disappoint, it turned out to be the best gig I'd ever seen from a band I had been following religiously since my early teens. A funny thing has happened to Steve Kilbey on the road into middle age: He has transformed himself into a dynamic and expansive performer—his once-stationary demeanor giving way to long loping strides across the stage, punctuated by the occasional yoga stretch. Audiences are treated between songs to what was hitherto a closely guarded secret: his superb sense of humor. All of this does nothing to diminish his power. On the contrary, it's electrifying to see him being himself—a new and endlessly fascinating role.
Similarly, Marty has—both literally and metaphorically—outgrown the black leather jacket and tight jeans that were his uniform in the eighties. With his long, dark beard and crinkly, graying hair, he projects a jolliness and warmth—a softening of his hard edges. A friend of mine described this as the "I don't give a shit" phase of his career. I prefer to look at it as the "approaching Buddhahood" phase.
And what of the songs? Well, the band served up a thoroughly satisfying blend of deep album cuts ("A Month of Sundays," "Don't Look Back"), live staples ("You Took" and "Tantalized"), the obligatory "Under the Milky Way," and a representative sampling from Untitled #23. Most gratifying was to see these four men who have weathered quite a few storms having such a good time together.
Is the Church on a career upswing? It appears that they may be. The ascent, like the music itself, is subtle. Nevertheless, here we are on the eve of a 30th anniversary retrospective tour, and yet I can't shake the feeling that this train has only started.
Catch this train on their current North American tour:
APRIL
2 – San Juan Capistrano, CA – Coach House
4 – San Diego, CA – Anthology
5 – Los Angeles, CA – The Roxy
6 – San Francisco, CA – Great American Music Hall
8 – Portland, OR – Mississippi Studios
9 – Seattle, WA – The Showbox
13 – Minneapolis, MN – Fine Line Music Café
14 – Madison, WI – Majestic Theatre
15 – Chicago, IL – Park West
17 – Cleveland, OH – The Winchester Tavern and Music Hall
18 – Ferndale, MI – The Magic Bag Theatre
19 – Pittsburgh, PA – Club Café
21 – Somerville, MA (Boston) – Arts At The Armory
22 – NYC, NY – City Winery
23 – Bay Shore, NY (Long Island) – Boulton Center for the Performing Arts
24 – Sellersville, PA (Philadelphia) – Sellersville Theatre
25 – Falls Church, VA (DC) – State Theatre
27 – Annapolis, MD – Rams Head On Stage
28 – Norfolk, VA – The Norva Theatre
29 – Raleigh, NC – Lincoln Theatre
30 – Charlotte, NC – McGlohon Theater at Spirit Square
MAY
1 – Atlanta, GA – Center Stage
http://www.thechurchband.com
http://www.myspace.com/thechurchbandofficial
http://www.facebook.com/pages/The-Church-Band/20594731045
http://www.twitter.com/thechurchband
http://apps.facebook.com/ilike/artist/The+Church
Be sure to see the superb video created by Autumn Andel, whose photos grace this article,  for Steve Kilbey & Martin Kennedy "All Is One"
http://www.youtube.com/watch?v=QJZfENNzCNo
7 Comments on ""But I Can't Let It Go" (further reflections on The Church)"
Comments are closed.