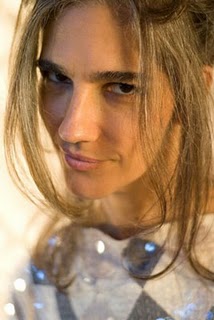 Suely Mesquita writes songs about being a potato, about witches in downtown Rio, the art of dying "well", becoming an ant, and being a man proud to have a loose wife. She hasn't made gold records, but is the go-to writer for Brazilian stars who need something more substantial to chew on between slices of pop. Author Bob Gaulke, having discovered her music, traveled to Brazil to interview Suely and the many musicians she has worked along side. The result is a fascinating book that describes the processes and inspiration that birth her songs. Included is a 19 song cd that introduces you to the body of work by one of Brazil's best songwriters.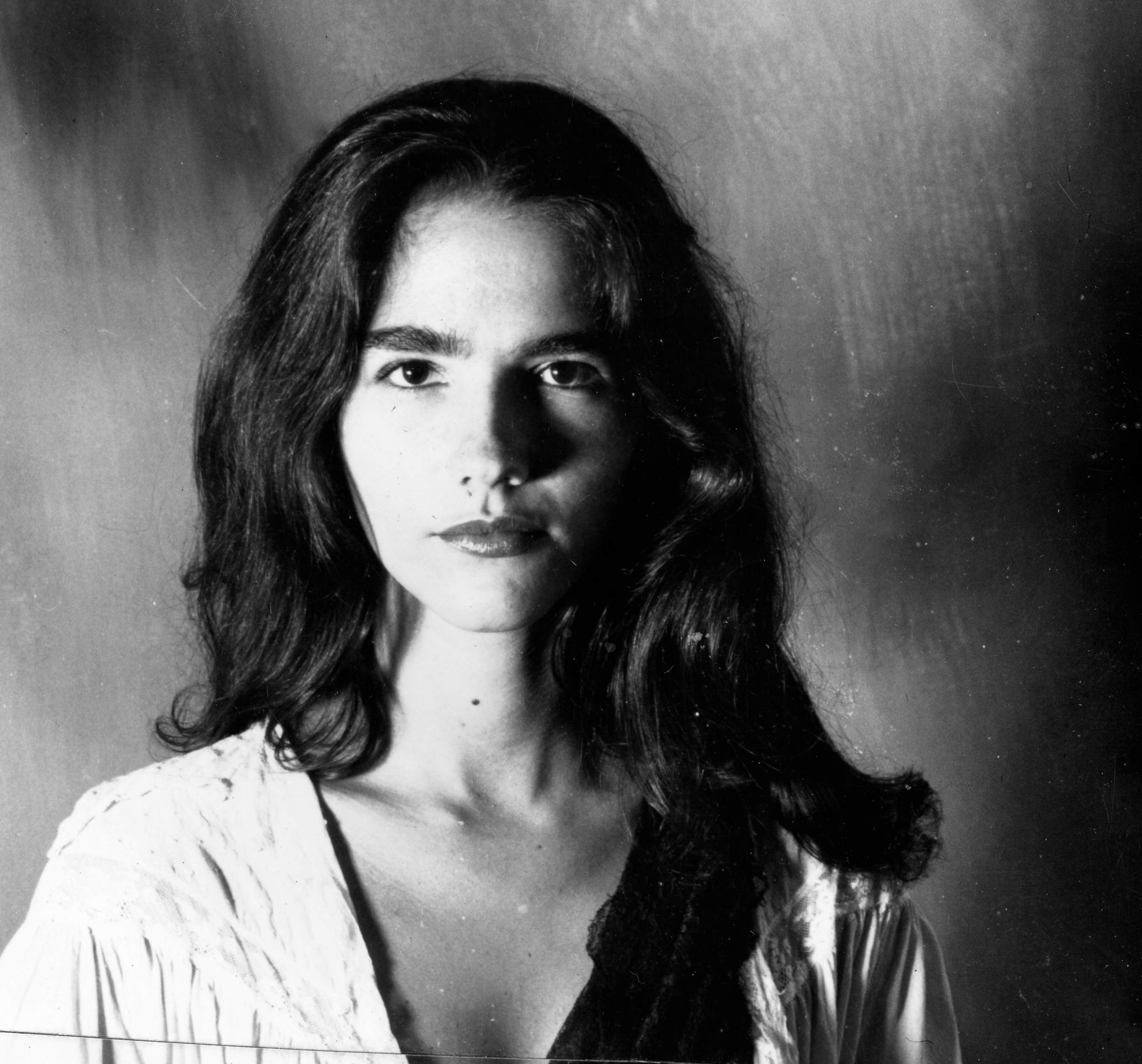 An Introduction To The Music Of Suely Mesquita
by Bob Gaulke (author of Sexo Puro: A Life In Brazilian Song, Verse Chorus Press, 2010)
I walked into a NYC record store that couldn't have existed a few years ago. Its stock is made up of recently unearthed obscure global rock treasures. The same hungers that inspired the idols of my youth (Jerry Dammers, Green Gartside, Andy Partridge, etc.) are now easily sated, packaged in deluxe imported and domestic editions that have taken the Soul-Jazz or Luaka Bop aesthetic and ran it right back into the neighborhood. No more name-checking games for the next generation; everything is in the bins. The store ("Other Music") seems successful.
I've just written a book about an obscure treasure, Suely Mesquita. You should know about her. She's written songs for and in collaboration with many of Brazil's most interesting contemporary artists. She has many things to say about the song-writing process and the journey from music fan to professional artist.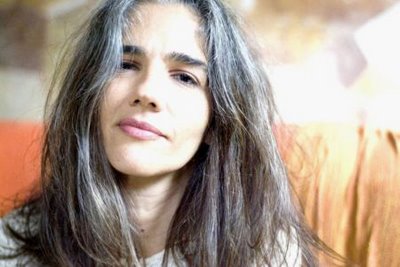 Mesquita writes songs about being a potato, about witches in downtown Rio, the art of  dying "well", becoming an ant, and being a man proud to have a loose wife. She hasn't made gold records, but is the go-to writer for Brazilian stars who need something more substantial to chew on between slices of pop.
Behind her photogenic exterior is the heart of one weird nerd. Although weirdness isn't at a premium in the indie-rock world, when it is part of the Brazilian process, its results are stunning: seductive melodies snake through poetry of the highest order, layered on top of an irresistible groove. Oh yeah, she's a great singer, as well. When the words are coming out of Suely's mouth, the correct listening position is with your back on the floor in a darkened room.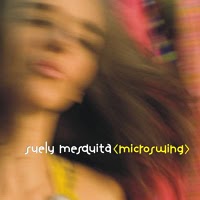 While living in Portland, I first glommed onto the work of the latest Brazilian generation, these children of Tropicalia. Although 70's Brazilian music has been harvested to death by DJ's, the contemporary scene has a lot to offer; strange harmonies, tempo changes, cryptic lyrics, ear-worm melodies, and of course the "fuck-beat" ("This is body music. I don't do body music", complains the publisher).
In the early 2000's I went to live in Brazil for a year and a half and returned to Portland only when my credit card started to be declined in record shops. There I first got hipped to the kids who had grown up on the works of Cateano Veloso, Gilberto Gil, Chico Buarque, and others and were now making their own fine songs. If you don't know the work of Lenine, Zeca Baleiro, Pedro Luís, Kali C, Luís Capucho, Lucas Santtana, you're missing something special. In music, as well as cinema and fashion, team Brazil has not given up possession for several decades.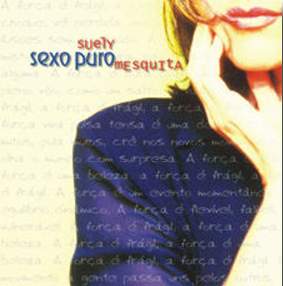 While paying off that same credit card in Japan, it became apparent to me how little of the current wave of Brazilian music was known there, or anywhere else outside of France. Japanese record stores would have Bossa and Tropicalia releases done to death, but most of the contemporary scene was unavailable or discounted cheaply. I approached Mesquita then through her website about the idea of doing a book about her work for an international audience.
Last summer, I went down to Rio and stayed with Mesquita and her family for a few weeks. Suely took me to numerous meetings with her friends and collaborators, all mild-mannered looking people until given a guitar. To see the kind of beauty Kali C can generate from just two chords, or the humble demeanor of Glauco Laurenco betray a voice worthy of a diva, is to feel that some wonders of Brazil have escaped the Lonely Planet.
Mesquita has a pretty decent selection of a half a thousand songs laying around her house. I went through them, arguing with her about which to include on the CD of the book. We spent a few hundred hours talking about music. I transcribed it, tweaked it, got it edited (thanks, Marg), and continued the dialogue by email.
The book's form took shape, focusing on songs and her own unique song-writing process. She was very open about many aspects of her work and wrote an essay that I think will be appreciated by other writers. We kept one eye on the songs that might have interesting stories behind them.
Here's one of them:
Romena
Luís Capucho e Suely Mesquita
eu vi uma menina romena dançando break
deliciosa
uma mínima romena dançando break
eu quero ter as maravilhas do mundo
quero viver nas maravilhas do mundo
quero comer as maravilhas do mundo
eu quero ser as maravilhas do mundo
Romanian Girl
Luís Capucho and Suely Mesquita
I'm watching this Romanian girl break dancing
delicious little Romanian girl break dancing
I want to have the wonders of the world
I want to live the wonders of the world
I want to eat the wonders of the world
I want to be the wonders of the world

The same tools that have made the music and publishing revolution to happen make it more challenging for independent artists to get their voice heard.
Despite Suely's relative success as a writer, she lives a pretty mild-mannered existence. Her own work, (two albums, "Sexo Puro" and "Microswing" were not best-sellers) is held in high regard, but is difficult to find. It's expensive for her to put on shows in Rio (musicians and venues need to be paid) and the press can be indifferent to local artists, even in one of the most famous musical cities of the world. Mesquita struggles like many indie artists do the world over.
Seeing Suely and her friends, all thirty and forty-somethings like myself, I was impressed by their activity, their pooling of information, their ease of collaboration, and their ability to critique each other in an on-going effort to improve their work. Their constant movement was inspiring. This to me looked like a way forward.
Suely is currently working with ace musician/songwriter/producer Eugenio Dale in the duo, Dio & Baco (Dionysus & Baccus), playing regularly in Rio and midway through recording an album of new songs.
They hope to appear at South by South West in 2011.

I'm hopeful that we've created a book that can serve as an introduction to an interesting talent on the contemporary Brazilian music scene and as an inspiration for independent musicians everywhere.
Listen to a podcast of 3 songs by Suely Mesquita

1. XXI (from the cd "Sexo Puro")
2. Mertiolate (from the cd "Microswing")
3. Que Qui Tu Ta/Interesse (an unreleased song, included on cd accompanying the book)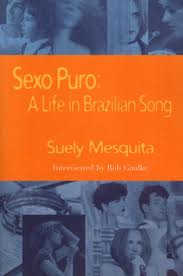 "Sexo Puro: A Life in Brazilian Song" is now out from Verse Chorus Press. It's 142 pages, with many photos and priced at 12.99. Complete with a 19 track CD featuring many unreleased songs:
http://www.versechorus.com/suely-mesquita-sexo-puro.html
Comments are closed.